पैन आवेदन की स्थिति (Pan Card Status) को NSDL और UTIISL वेबसाइटों के साथ-साथ एक फोन कॉल और एसएमएस के माध्यम से ट्रैक कर सकते हैं। अपना नाम और जन्मतिथि, कूपन नंबर आदि प्रदान करके स्थिति की जांच करने की प्रक्रिया भी प्रदान की जाती है।
Track PAN Card Status by Using Below Links
Note: Online Tracking of a PAN card application can be carried out by an individual only after 24 hours of filing the application.
How to Check the Status of PAN Application on UTI Website?
Step 1: UTI से पैन कार्ड की स्थिति जानने के लिए यहाँ क्लिक करे
Step 2: वेबसाइट खुलने के बाद 'PAN number' or 'application coupon number' भरे |
Step 3: उसके बाद date of birth' भरे |
Step 4: फिर 'captcha code' भरे |
Step 5: उसके बाद 'Submit' button पर क्लिक करे |
Step 6: Submit करने के बाद आपको पैन कार्ड की स्थिति दिख जाएगी |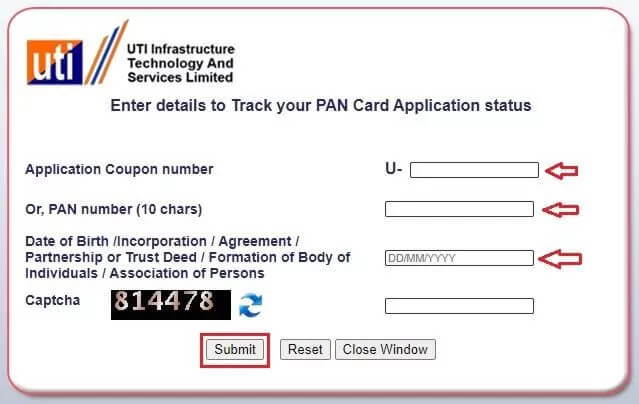 How to Track NSDL PAN Card Status Online?
Step 1: NSDL से पैन कार्ड की स्थिति जानने के लिए यहाँ क्लिक करे
Step 2: वेबसाइट खुलने के बाद 'PAN- New/Change Request' Select करे |
Step 3: उसके बाद Acknowledge number भरे |
Step 4: फिर 'captcha code' भरे |
Step 5: उसके बाद 'Submit' button पर क्लिक करे |
Step 6: Submit करने के बाद आपको पैन कार्ड की स्थिति दिख जाएगी |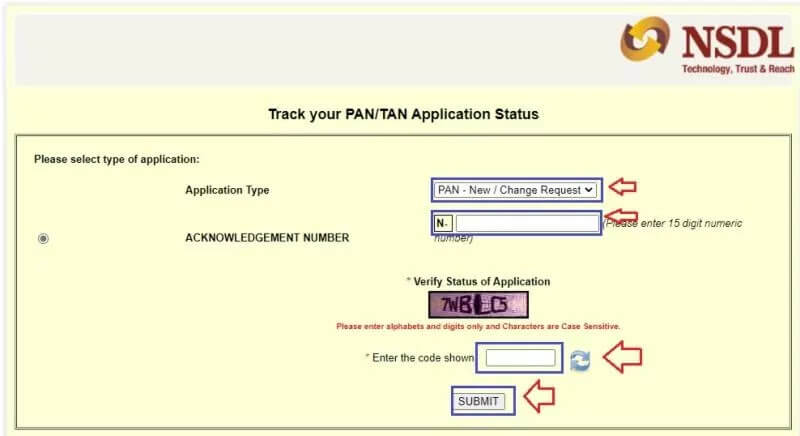 Check PAN Card Status via Name and Date of Birth
The process to check the PAN Card status by using the name and date of birth is given below:
Step 1: NSDL से पैन कार्ड की स्थिति जानने के लिए यहाँ क्लिक करे
Step 2: वेबसाइट खुलने के बाद 'PAN- New/Change Request' Select करे |
Step 3: उसके बाद Name वाले Option को चुने |
Step 4: फिर 'captcha code' भरे |
Step 5: अब Surname, First Name and Middle भरिये |
Step 6: उसके बाद date of birth' भरे |
Step 7: फिर 'captcha code' भरे |
Step 8: उसके बाद 'Submit' button पर क्लिक करे |
Step 9: Submit करने के बाद आपको पैन कार्ड की स्थिति दिख जाएगी |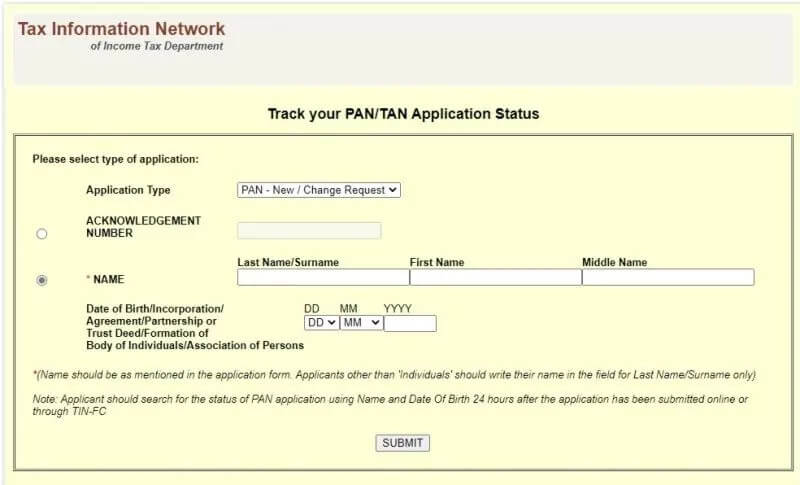 UTI PAN Card Helpline
Contact: +91 33 40802999
Email: utiitsl.gsd@utiitsl.com
Timings: 9:00 a.m. to 8:00 p.m. on all days